Landscape:
Martin's has the ability to execute every phase of a landscape project, wether new or existing.  We have on staff a Licensed Landscape Horticulturist, Licensed Irrigation contractor, Licensed  Restricted Pestidcide  applicator, Graduate Horticulturist and Graduate Landscape Designer and Certified Nursery Professionals  with combined experience of 60 plus years. We are proud to have a reputation for providing professional, quality, honest  service and follow–up assistance long after purchases are made from Martin's. The company is owned and operated by Jennifer and her husband Darren, both being local. One of the owners is always present on jobsite and our employees wear Martin's designated shirts while working and operating clean, updated, professional equipment.
These are some of the services we offer.
Before the project:
-Initial consultation
-Design is drawn
-Follow–up meeting to review and discuss plans and pricing, review and inspect plant types
-Designer available during all phases of Landscape project
Installation of project:
-Initial grading of property
-Install of irrigation system if  desired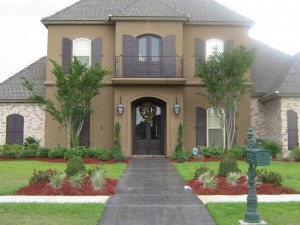 -Install granular fertilizer and herbicide
-Install of gardens
-Install of sod if needed
-Install of plant material
-Install mulch in gardens
-Stake and wire all trees
*We install rainbird  irrigation systems for lawn and garden  & low volume drip systems  for gardens
*Sod is certified grade A Louisiana sod
*We can also grade and fill areas in the yard or the complete yard.  We use a separate trucking company to provide the fill soil.
*We also install subsurface drainage by using existing benchmarks to find the correct levels needed for proper drainage and only NDS drainage products.
*We install vista and hydro-rain LED lighting and controllers
Completion of project:
-We offer bi-annual maintenance of landscape gardens including
pruning, fertilizing, panting of annuals and re-mulching of gardens
-We offer monthly chemical control of weeds in gardens
-We guarantee all work performed
-We guarantee plant materials(shrubs 3 months and trees 1 year)
-We guarantee irrigation system labor 6 months and parts 3 years
-We guarantee that we are always available for help and advice
-We guarantee that will be in business at 320 3rd St for a long time
BEFORE and AFTER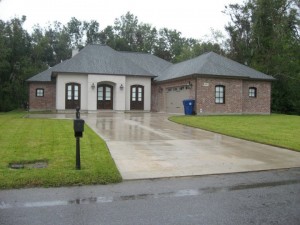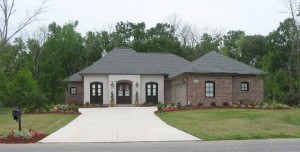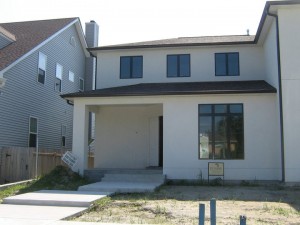 More Landscape Pictures